So, I've been meaning to post pictures for a while, but, well, you know. Anyway, these are photos from my best friend's Princess and the Frog themed birthday party. Yes, she was turning 32. This
is
a judgment-free zone, right? Several people (read: everyone invited) questioned my choice of themes. They wanted to know if this was for her, or me. I told them it was mostly for her. And she did love it, so there.
Anyway, her birthday is Feb. 14th (rough day to be born!) which this year also was right before Mardi Gras, tying in excellently to the whole New Orleans thing. I bought her the Princess and the Frog cookbook, and made three of the recipies: the beignets,
the cornbread,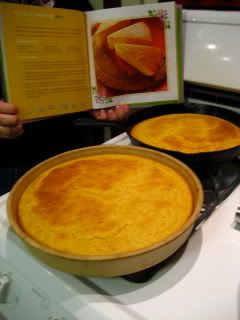 and the Froggy in the Pond cupcakes*.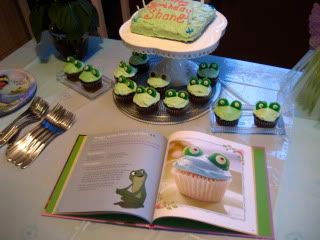 They were all very good, although I don't think kids should be making the beignets. As it was, I had my husband doing the frying! Mix the food with a big crockpot of chili, some Mardi Gras jazz from Pandora, and a couple of big bottles of Southern Comfort Hurricane punch, and we had quite the swingin' New Orleans bash!
*Note about the cupcakes: I made the cupcakes the night before with the intention of frosting them the day of. My dearest sweet husband took the baking as a cue to help, so he mixed up the frosting. Well, frosting went into the fridge over night. Flash to the next afternoon. The frosting is SOLID, so I add a little milk and get everything creamy again. I frost the first cupcake and stick his eyes on there (I went for green frosting even though the book uses blue, for some reason). He looked pretty adorable, so I moved to the next one. When I'd finished him, I turned to put him with the first one and- GASP!- The first one's eyes were sliding off the sides of his head!!! So, the moral of the story is: make the icing a little firm.