Please move this if it needs to be; apologies!
Hey everyone, I just wanted to post some pics from a day trip my family and I took this summer to Marceline. It's actually very nice; typical small-town America.
So first we took a walk around town on our way to lunch and we got to see the Walt Disney Post Office and the Santa Fe Disneyland R.R. train.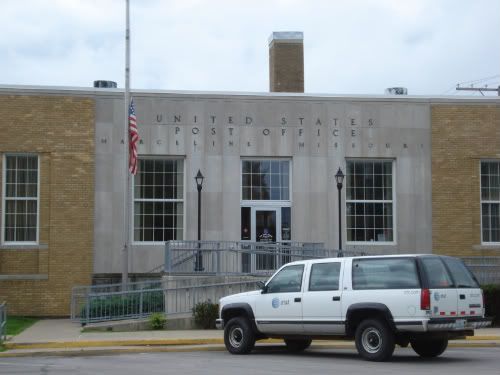 Then we headed down Main Street:



After lunch, we headed to the big draw in town - the Walt Disney Hometown Museum:


Right by the train tracks. This place is really great. It's very small, but there is so much history. Pictures weren't allowed inside, but it was so nice. One of the tour guides told us the story about when Walt came back as he was planning DL so he could "refresh his memory," and apparently they had a big celebration downtown with lots of kids getting out to see him. And he stayed at her house! It didn't seem like she could say enough nice things about him. The main floor was mainly a dedication to his family and early life on the farm and his relationship to his siblings, so there were lots of letters and old pictures. The front room had a bunch of Disney vintage collectibles and his desk from school, which he'd carved WD into the upper left corner. There was also an old Autopia car in green and one of the Mickeys painted by famous artists. The best part, for me, was the walk-through Disneyland diorama that took up an entire room on the second story. All of the pieces were at eye-level; for some reason, they didn't have Tomorrowland, but they had a nice big Haunted Mansion in the corner.

After we left the Museum, we went to find the farm.



...But it had rained a lot that day, so there was a big river to walk through.



Before we walked to the farm, though, we passed the Dreaming Tree that had been one of Walt's hangouts during his time there. It's pretty sick and withered now, but in pictures it was really huge and beautiful.

Apparently the barn is a pilgrimage for Disney fans; there's no lighting and it's just out in a field, but fans had written messages on the walls and drawn pictures. It was actually kind of touching to see messages that people from everywhere had left.

On our way out, we drove past his house:


But it's a residence, so tours aren't allowed.

It's just a really nice place, and I'd encourage anyone who can go find the time to do so. It's not something I'd fly halfway across the country for, but it's just a nice way to spend a day. Every year they actually have a big Disney day called ToonFest, which I've never been to, but it looks like they have famous illustrators and animators visit and a bunch of stuff for kids.